Macon Pride Courage 2 B Fabulous Awards
Tangerine Summers, 1999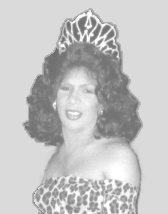 Tangerine Summers, one of Macon's most notable female impersonators, is a towering figure of style and strength. She commands any stage, carrying years of lessons on her broad shoulders, giving every performance her all. She has had a rough journey, but she is beaming now - leaving slack-jawed audiences cheering for more. She's been a courageous leader in the LGBT community for over 20 years.

Summers comes from a large, supportive family with many siblings. She is a fabulous seamstress by day; an exuberant female impersonator by night. Macon Pride felt it was high time she be honored for her dedication and devotion to living in Macon - being herself. She has persevered through a battle with narcotics, as well as decades of bigotry, persecution, and intolerance. In a word, Summers is "heroic."

In the late 1970s, Summers first discovered the nightlife at a youthful age. She would leave Macon, (while still attending Southwest High School), and travel out of town to see female impersonator shows. Ironically, she started her career as a heckler of other performers. "I realized over time, though, that I was jealous that they were performing and I wanted to be the one on stage!" she said, smiling.

An established female impersonator, Billy Boots gave Summers the encouragement she needed to get her out of the crowd and into the spotlight. Summers became a professional female impersonator at the age of 17. Boots helped her create her costumes, do her make-up, and select her music. At this point, her family was oblivious of her blossoming career choice.

Summers was also a member of the Drama Club in high school and quite accidentally found herself in an appropriate role in the play, "The Skeleton Walks." Summers was out with the flu the day that the students had to choose their roles. "I came back and I had been given the part of the undercover male detective. None of the other boys had wanted it, so I had to take it if I wanted to participate in the play. The part required that I dress as a woman," she said, chuckling. "I received an award for my performance." It was only then that her parents learned of and accepted her as a female impersonator.

Shortly thereafter, Summers began performing in Macon's first gay bar, the We Three Lounge, followed by shows at Landmark, (where she did the infamous candle wax shows to Mother's Finest's "Baby Love"), as well as the Pegasus.

In 1980, she moved to Atlanta and studied with Paul Jenkins at Morris Brown, completing college-level courses in her forte - Fashion Design - and performing in the big city clubs. Countless titles were bestowed on Summers as her talents came to be publicly recognized by those outside of her hometown. In the late 1980s, she won her first pageant, Miss South Georgia, in Albany at Club Flirters. She also won contests in Macon, Savannah, Augusta, in Daytona Beach, FL, and in Knoxville and Chattanooga, TN.

The spiral of fame, however, led to Summers' attempt "to be like the big girls." The grueling show schedules took a toll on her and she found herself tempted by the negative influences of the fast-paced nightlife. "People don't realize how hard this work is... there are nights when I really don't want to perform. It became increasingly hard for me to psych myself up to get out there," she said. Peer pressure eventually led to her lowest point - she was living in Atlanta doing shows while hooked on cocaine and crack.

After battling her addiction for months and continually falling back on her habit, a long time friend pleaded with her, "Stop doing whatever you're doing, Tan." With tears welling, she said, "I felt at that time that I had to do things to be like the other performers... things that I didn't feel comfortable doing... part of that included doing drugs." The habit affected her decision making, her performances, and her friendships.

"I wasn't myself... I was violent, mean to my friends, and I lost a lot of people close to me because of it." She finally removed herself from the scene after a drug incident led to her incarceration.

Raised by a Methodist father and a Baptist mother, religion has always kept Summers grounded even through troublesome times. "It was God that helped me through the bad in order to make me stronger," she said. "I've been clean for five years now," she said, smiling. As a seasoned performer, her self-imposed task is to help young performers just starting out. "I work very hard to try to keep them out of drugs," she said.

Determined to turn her life back around to the positive, she made a personal decision to never do drugs again and she's made good on her promise.

Her work reflects this achievement. Summers faces each day with renewed hope. She chooses to perform to songs that have a message or mean something to her personally. Her favorites are "Proud Mary" by Tina Turner and Patti LaBelle's "You Are My Friend." Her stunning, handmade costumes continue to be flattering and fashionable. And, she's rarely seen without a smile!

Summers loves animals. "I've always loved animals," she giggles, "as a child I used to catch toady-frogs, lizards, and snakes... then I'd throw them at my older sister!" Now, she feeds all the stray cats and kittens who come to visit her home. "Precious," a fat white and black cat, is her favorite.

Also known as Ray Grissett, she is the male choir leader in a local Baptist church where her mother also worships. She performs at nearly every AIDS benefit in Middle and Southern Georgia. "I made a promise to a friend who suffered and died of AIDS to be supportive of the gay community," she said.

When asked how she reacts to people who don't understand her decision to be a female impersonator, Summers said, "I'm going to be who I am... I tell them 'I may have to help you someday.' " There's a reason why Tangerine Summers is best known as "Macon's own Tina Turner" - she's a courageous survivor with all of the vitality, strength, and pride of her famous hero.

The strength and the courage Tangerine uses every day to live happily in Macon, for most of her life, are two of many reasons Macon Pride is honored and humbled to present the Courage 2 B Fabulous award to this legendary lady.