Macon Pride Courage 2 B Fabulous Awards
Nick Oza, 1999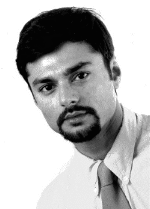 Nick Oza, professional photographer for the Macon Telegraph, doesn't just take pictures of people. His images reach beyond the physical and offer us a glimpse of their souls.

His peaceful demeanor, dedication to equality, and ability to understand the situations of the people he photographs are just a few of the reasons that Macon Pride is honoring him with our Courage 2 B Fabulous award. The award will be presented to him on Saturday, June 19 at the Pride Fest in Central City Park.

I met with Oza at his favorite restaurant, The Cherry Corner, in downtown Macon. Oza calls Macon home, but he originates from Bombay, India where the native tongue is Gujarati. He is a gentle man in his early 30s with an amicable smile - someone who puts you at ease the moment you meet.

Oza is the self-proclaimed "black sheep of the family." He chuckles, "I am even darker than my brother and two sisters." As a teen, he was encouraged by his parents to follow Indian tradition and run the family's business - cotton. He chose photography. He went to study under professional photographer Alex Fernandez. After completing his studies, he began doing commercial photo- graphy, then left India for the United States. "Leaving for me was very hard," he sighed. His parents were less than thrilled about his decision.

Over the next couple of years, he traveled from Michigan to North Carolina to Louisiana completing photography internships. He learned English and became what he calls a "blend of East and West." His family claimed he was "too liberal." Much to his surprise, he soon found that Americans felt he was "too traditional." Because of this experience, Oza came to appreciate people for who they are rather than what society deemed they should be.

In his early 20s, Oza became a notable photographer. He was recognized for his talents and received multiple awards for his images. Only then did his parents begin to accept his chosen career. "Society's opinion had a great impact on my family," he said. Eventually, he applied and completed coursework at Columbia College in Chicago, IL. It was while he was living in Chicago during 1996 that he learned of the photography position at the Macon Telegraph newspaper.

When I asked Oza how Indian society, in general, feels about LGBT folks, he told me there have been underground groups organized there for over 20 years. "It is a matter of time," he said. He explained that it takes time to educate people before they'll accept something labeled as taboo. "Every human has a full potential and it depends on how they want to use it, as well as what influences are around." His job is to help make society more aware of the potentials in people.

He became interested in highlighting the positive attributes of the LGBT community when he met Jackie, a woman attending Columbia College. Jackie became a good friend during a time when Oza was struggling through school, working 70 hours a week while taking 16 credits per semester. She helped Oza through some rough times and their bond of friendship strengthened. It was not until Oza had known her nearly 6 years, however, that she told him about her past - Jackie had had male-to-female transition surgery. "It didn't matter," he said, "because I had come to care for her soul. Her transsexuality didn't matter at all."

In 1994, Oza went to Stonewall 25 (the silver anniversary of the riots in NYC which are recognized by many as the catalyst of the modern-day gay movement). "I wanted to show how Indian gays and lesbians take part in this celebration - to have their identity - so that the Indian community will respect them. I gave this project to many Indian community newspapers - unfortunately it was not published," he said. Nevertheless, he found the experience to be very rewarding because it gave him an opportunity to capture images that reflect both his love of the outdoors and his tenderness for people.

I asked Oza if he thinks that society will ever accept LGBTs or if there will always be turmoil about sexual orien- tation issues. "The problem (inequality) will always be there... You just have to believe in what you are and try to educate as many people as possible in your lifetime. If you can change society, it will be that you made a dent... (pause) Everyone wants everything to change right here... right now..." he said. "but, it is the sacrifice of each generation that leads to the goal. Because of hard work I have missed few precious things in life."

Oza recently went to Africa to take photographs for a book about soccer. The book will be published later this year. It was the first time he found himself in unfamiliar surroundings - removed from the Eastern land of India and his Western home of Macon, GA. The trip was one of self-realization. He came to the conclusion that he is a perfectionist and a work-aholic. He plans to start taking more time for himself. (He hasn't had a vacation in nearly two years!!)

When he finds time, Oza enjoys gardening, canoeing, drawing, and writing poetry about nature. "I love to go to the park," he said, "because there I can be at one with Nature." This is how he relieves stress and finds peace. "If you understand the pain in life, you can feel a profound ecstasy." Nature allows him this solace.

Because of his dedication to his career, Oza is currently single. He wants to marry and have a small family someday. (Sorry, guys - Nick is "straight... but not narrow!") Eventually, he would like to quit photo-journalism and do freelance photography. "I would love to teach photography to children," he smiles. The younger the children are when they learn photography, the better. "You need a strong foundation to grow good fruit."

As an amateur photographer Oza wanted to be known throughout the world, but he has reconsidered... "If I were worldfamous, I wouldn't have anywhere to go from there!" he exclaimed. He believes that fame tends to tarnish people and they become detached from "the self" as a result of achieving notoriety. "Now, I just want to be a GOOD photographer," he smiles, "because I find my job simply fascinating."