Macon Pride Courage 2 B Fabulous Awards
Jane Darby, 1999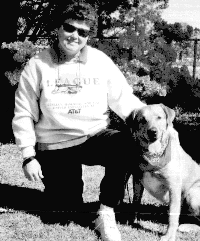 Pioneer is the word that most frequently comes to mind when you think of Jane Darby.

She grew up in Alabama and moved with family to Memphis, TN when she was 14 years old. Immediately after graduating from high school in 1968, her family moved to Atlanta where she took a position with Southern Bell.

During her first few years as a service order clerk with the telephone service powerhouse, she took evening classes to broaden her career potential and worked herself into the position of technician and was promoted to management in 1977.

She fell in love with and married a man she worked with in 1973. Her marriage lasted about five years and it wasn't until after her divorce that she began to acknowledge her lesbianism. "I didn't really have a hard time accepting it, because it was always there anyway," Jane replied when asked how she came out to herself. She soon found herself in her own lengthy relationship with her first female lover, Terri.

In 1980 Jane accepted a transfer to Savannah & Terri went with her. During the de-regulation of Ma Bell in 1984 Jane accepted a position with AT&T and eventually moved to Macon in 1988. Her relationship with Terri had ended and she continued growing her career as an AT&T Quality Consultant.

When asked how her lesbianism figured into her career-oriented lifestyle, Jane admits that "the joke was on me." Jane led the double life, being the perfect corporate employee at work, taking care not to reveal anything about her private life to her co-workers, out of fear of their intolerance. She was not aware at that time that AT&T was the first Fortune 500 corporation to include sexual orientation in its employment discrimination policy, adopted in 1973. She also had no knowledge then of the employee-based group LEAGUE, whose first chapter was formed in 1987 in Denver, Colorado.

LEAGUE was established in response to the gay rights march on Washington that same year, which a group of Denver-based AT&T employees attended. Highly motivated by the massive gay presence in Washington DC, this group of employees from Denver returned to work freshly charged to test once and for all the sexual orientation clause of AT&T's discrimination policy. Upon their discovery that AT&T stood by their policy by allowing the group to form, other chapters began popping up within the company across the country.

It wasn't until 1991 that Jane became a founding member of the Atlanta chapter of LEAGUE. She recalls humorously how she went about "outing" herself to her employer. She had seen a LEAGUE flyer posted on an employee bulletin board in the elevator on the way to her office, and the minute the elevator doors opened, she charged into her office to make an appointment with her District Manager. During the meeting, she asked what might happen to her and her career when she got involved with LEAGUE, and her boss's response was simply "nothing."

Immediately upon outing herself to her co-workers, her work performance almost doubled in proficiency. Jane realized that all of the energy she had exerted to needlessly keep herself in the closet had been draining large amounts of energy she could have devoted to her career.

Almost immediately, her private life began to merge with her career life and she finally became one whole complete person going in the same direction together. No longer concerned about risking her career, she began to verbalize what others only think about: the truth about homosexuals. Letter after letter was sent to the Macon Telegraph, penned and signed by Jane Darby, which was one single person's attempt to finally educate the entire community about the misconceptions and stereotypes of homosexuality.

She knew she was drawing much fire from a lot of people in the community, but she recognized that this was necessary to get people to think and to apply logic when discussing the issue.

Jane met Donna Davis in the summer of 1994 and had their commitment ceremony in 1997 at the High Street Unitarian Universalist Church. Jane's entire adult family attended the wedding and expressed happiness for their union and welcomed Donna into the family quite comfortably.

The High Street Unitarian Universalist Church is one of the main reasons Jane remains in Macon today. "Well it's not for its progressive culture and ethnic restaurants, or its open arms," she says, responding to questions about what Macon does for her. She was raised strict Southern Baptist, and over the years found herself turned away from the church completely. A good friend of her's convinced her to visit a service at High Street, and Jane immediately began listening to her spiritual side again.

After her and Donna's commitment ceremony, Jane began searching for more active opportunities to get involved in the community. She helped form the now-defunct LesBiGay Connection in 1995, and was one of the most visible participants in Macon's first public gay and lesbian event held that summer in Tower Park in Macon.

Retiring in 1998, Jane laments that she can't take advantage of AT&T's new domestic partner benefits package, which she helped implement as the benefits apply only to active employees. She continues to blaze new territory in her retirement as she has started her own business as The Lady Carpenter, independent contractor.

Jane's advice to middle Georgians: "Come out, come out wherever you are." She envisions a day when all gays and lesbians awaken with visible identifying marking, such as purple skin. "When the world sees how many of us there are, it might get crazy for a while but then everything will be over. There will be nothing left to fight about once we're all out to everyone. The secret is what gives people power over our lives."

Does anyone out there NOT know that Jane is a lesbian? "If there is, tell me about it so I can go to them and clear it up," quips Jane.

Macon Pride is grateful to have this opportunity to award Jane the recognition she so much deserves, with our Courage 2 B Fabulous Awards during Pride Fest '99.