Macon Pride's Resources Directory
updated 02-15-03, click here for actual listings
Project Name: "Macon Has It All" Resource Directory
Current project chair: Lynne Shelley, Lanns40@aol.com
Project extensions: LGBT Customer Thank-You/Tip Cards
Annual Budget: $600 (Printing based on quarterly updates, Tip Cards, brochure distribution)
Participation: Open to all, general donations accepted from all
Description: Brochure promoting local LGBT-owned or friendly businesses and services to the lgbt community
Cost: Free listings, free distribution, free Tip Cards ($15 donations are requested from commercial businesses to help cover printing & distribution)
---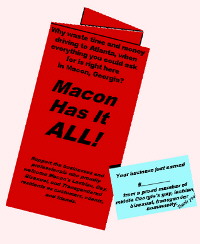 Are you a local business owner? Take our LGBT survey.


The Resource Directory is an ongoing project by Macon Pride which actively seeks to identify businesses and services in the area that welcome LGBT residents as customers, clients and friends.

The project was started as an attempt to link our community to the vital services that are available for us, such as other lgbt organizations, progressive churches, legal, medical and financial aid, and crisis counseling. It has evolved to include mainstream listings in response to the constant ageworn complaints that there is nothing to do in Macon, especially for gays and lesbians.

We recognize how common it is for local gays and lesbians to go to Atlanta or Savannah for shopping and entertainment based on the perception that they are not welcome or accepted in Macon's places of business. But times have changed dramatically, even in the last 5 years.

We know by experience that many businesses DO welcome our patronage, and we aim to share this information with the whole community so that the relationship between these businesses and the lgbt community contributes healthily to both our own culture and the economic stability of Macon.

Building on our new support from the Macon-Bibb County Convention & Visitors Bureau, and our participation in the Mayor's Diversity Committee, we expect to be able to promote hundreds of gay-friendly businesses to potential tourists stopping at the interstate rest stops just outside of Macon.

Our redesigned "Macon Has It All" Resource Directory will be placed in the tourist information literature panels inside these rest stops in an effort to encourage the LGBT travelers passing through Macon to actually stop and visit all the wonderful things about this friendly, beautiful, progressive southern city.

One of the subtle ways we encourage mainstream businesses to consider listing in our directory is to ask people in our community to leave a "Thank-You" card that tells the manager/owner that his business was just supported by local LGBT dollars. Once a business recognizes the impact our patronage has on their overall success, they're more eager to make us feel welcome in their establishments. The first step they can take that costs them very little if anything at all, is to list their business in our Resource Guide.

The printed directory is currently being redesigned & updated by Lynne Shelley. If you would like to receive one of these for your review, we'll send you one for free, email us to request a copy.
---
Current Listings in our new "Macon Has It All" Resource Guide
Touch of Magick new age gifts, books, jewelry & body piercing, 1722 Watson Blvd, WR, 478-929-3437
Colors on Cherry alternative & new age gifts & jewelry, 415 Cherry St, Macon, 478-745-7474
Golden Bough Vintage Books 371 Cotton Ave, Macon, 478-744-2446
The Lady Carpenter Licensed, insured independent contractor, Macon, 478-784-9925
Triangle Graphics total printing services, 344 Second St., Macon, 478-741-7300
Coldwell Banker Realtor Courtney A Thomas, 2449 Vineville Ave, Macon, 478-738-2275ext277
Georgia Legal Services 111 Third St., Macon, 478-751-6261
St. Francis Episcopal Church 432 Forest Hill Road, Macon, 478-477-4616
High Street Unitarian Universalist Church 1085 High Street, Macon, 478-741-1714
St. Barnabas Metropolitan Community Church Christian worship, Sunday evening services, 2020 Ingleside Ave, Macon 478-722-0057
Center for Children and Education helping students and parents to solve problems in Georgia public schools, 478-750-1007
Lambda AA Alcoholics support group, meets weekly, 478-736-0005
Central City AIDS Network Diversity House Project, Rainbow Center 2020 Ingleside Ave, Macon, 478-750-8080
Advanced Bodyworks Massage Healthcare, members AMTA, 4479 Forsyth Rd, Macon, 478-475-5512
Holliday Dental Associates Lindsay Holliday, DMD 360 Spring St, Macon, 478-746-5695
North Macon Internal Medicine Lesley Cown, MD 3951 Ridge Ave Ste C, 478-757-7878
North Macon Counseling Associates multi-disciplinary, comprehensive, outpatient mental health practice, 4149 Arkwright Rd Ste A, 478-405-6789
United Hospice 2484 Ingleside Ave, Bldg B, Macon, 478-745-9204
Health Resource Center public service of the Medical Center of Central Georgia, 877 Hemlock St, 478-663-1232
College Park Center David Drake, Jr., MA Licensed Marriage & Family Therapist; Mary Ann Drake, Ph.D. Licensed Psychologist, 1549 Coleman Ave, Macon, 478-750-0918
PFLAG-Macon Parents, Family & Friends of Lesbians & Gays, Macon chapter, 478-328-0497
Mercer Triangle Symposium Mercer University LGBT Campus organization, 1400 Coleman Ave, Box 70135, Macon, 31207, Rebecca Drummond (president)
Wesleyan GLOBAL Wesleyan College LGBT Campus organization